Everybody probably likes something, and I suppose there are folks who like this stretch of road and the state of Nevada. As far as I'm concerned it's one of the dullest highways in the country. The best things I can say about it are that it's not the Interstate, the traffic is light, and the surface is generally good.

Either way you go, east or west, the routine is this: ride like hell across 30 to 50 miles of desert. Go up a ridge (just look at the map and see what I mean. It's not a very good map, but then there's not much to see), go down a ridge, ride across 30 to 50 miles of desert, and so on. Repeat 12 times.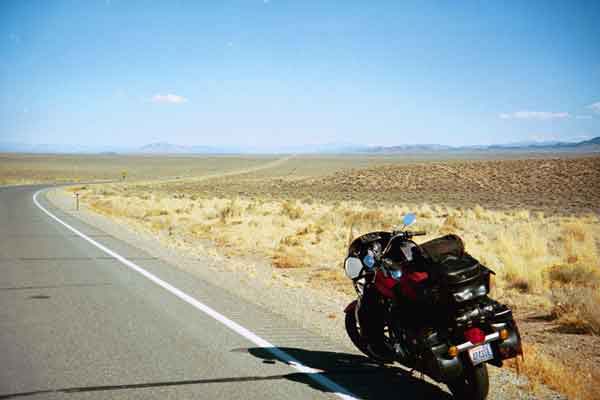 In the summertime the sky looks like a sheet of hammered stainless steel, and it's hot enough that you know hell's front door must be just around the next curve.
And as for the state, well, what can you say about a place that'll let you get legally laid for money, but still requires you to wear a helmet on some of the emptiest roads in America? At least it serves as a buffer between California and the rest of the country.